It was the year 2020 when the planet was besieged by the COVID-19 pandemic. Anxiety levels were soaring and our dependence on technological equipment was at a point of no return. Communication via digital platforms was the only way of connecting, and in a world where the future felt daunting and distant, we found solace in our online network. Whilst we slept, large towers were erected outside our windows, appearing harrowingly tall and extra-terrestrial.


5G Network; Fearnley Mill, NEC Nightingale, Chelmsley Wood. Glazed stoneware and wood | Hugh Frost | 2020


In the work of Cornish artist Hugh Frost, philosophical truths surrounding technology are extrapolated through the physical medium of clay. Resisting the urge to discuss the digital through a digital medium, his work offers an alternative lens and enables a material understanding of the subject matter he is investigating.

Terms like 'technology' and 'technique' are rooted in the ancient Greek notion of 'techne' - craftsmanship, craft, art - which is the body of knowledge associated with making something. To obtain such expertise, a reflection on the action of making and speculation on the current state of the world is necessary. By imitating nature, one can begin to understand the sphere and time in which it exists and work out creative strategies for how to improve it.


Teshima Proposal, glazed stoneware and wood | Hugh Frost | 2021


Responding to his environment, Frost set about investigating the various theories and discourse being debated amongst the local people surrounding the construction of 5G telecommunications towers. 5G (fifth generation) is a wireless network technology introduced in 2019 as a significantly faster and more capable upgrade of its forerunner 4G.

Actively engaging with the topic of conversation, the production of Frost's work became both a response to the immediacy of the situation and also a tool for personal contemplation. What will these transmitters do to our cultural landscape? How should we interpret the targeting of 5G telecommunications towers in the UK?

Mimicking aesthetic elements of the towers, Frost constructs miniscule replicas of telecom masts that suffered intentional damage in the Spring of 2020 due to false claims regarding a link between 5G and the Coronavirus pandemic. Named after the roads and nearby buildings where the masts were installed, Frost emphasises their geographical relevance and site-specificity. As well as labelling them locationally, public landscape areas are also incorporated in their compositions.


Permission Slip, untitled drawings on paper at Good Press | Hugh Frost | 2018


Roundabouts, parks, car parks, letting agents' roofs and former churches all contribute to the final form of his sculptures. As well as the geographical elements, there is also a considered technological aesthetic, that takes direct configurations from the geometries of the vandalised towers. Reminiscent of astronomical comets or shooting stars, three-dimensional forms are depicted in a two-dimensional mass; disappearing when observed from the side and capturing a transient moment of stillness, slicing through space.

Touching on our continual interaction with screens and relationship with flatness conceptually ties the two-dimensionality of Frost's work into the wider context of his technological investigation. Telecommunication masts warrant faster connectivity, which consequently enables more digital devices to be online at home.

This feeds more screen time for our population and inevitably contributes to our two-dimensional process of engaging and interpreting visual information. Much like Frost's work, one can understand images through a screen directly, but from a different angle, information gets lost and becomes non-existent.

Colour consideration has been fundamental in the development of this work. Representing purity, innocence and goodness, in art the colour white has a long lineage of allegorical connotations that have been studied throughout the course of history and still resonates with artists today. Leonardo Da Vinci, a painter during the Italian Renaissance, believed that the colour white represented light and was the foundation of all other colours. Over the course of the 20th century, this shade was used by artist Kazimir Malevich in a series of 'white on white' paintings started in 1916, one of which depicted a white square floating in a white background to symbolise infinity and Utopia. Artist Park Seo-Bo's use of this colour was fundamental to his Ecriture (1967-1981) series of paintings, since they acted as signifiers of immateriality.


Studio Model | Hugh Frost | 2021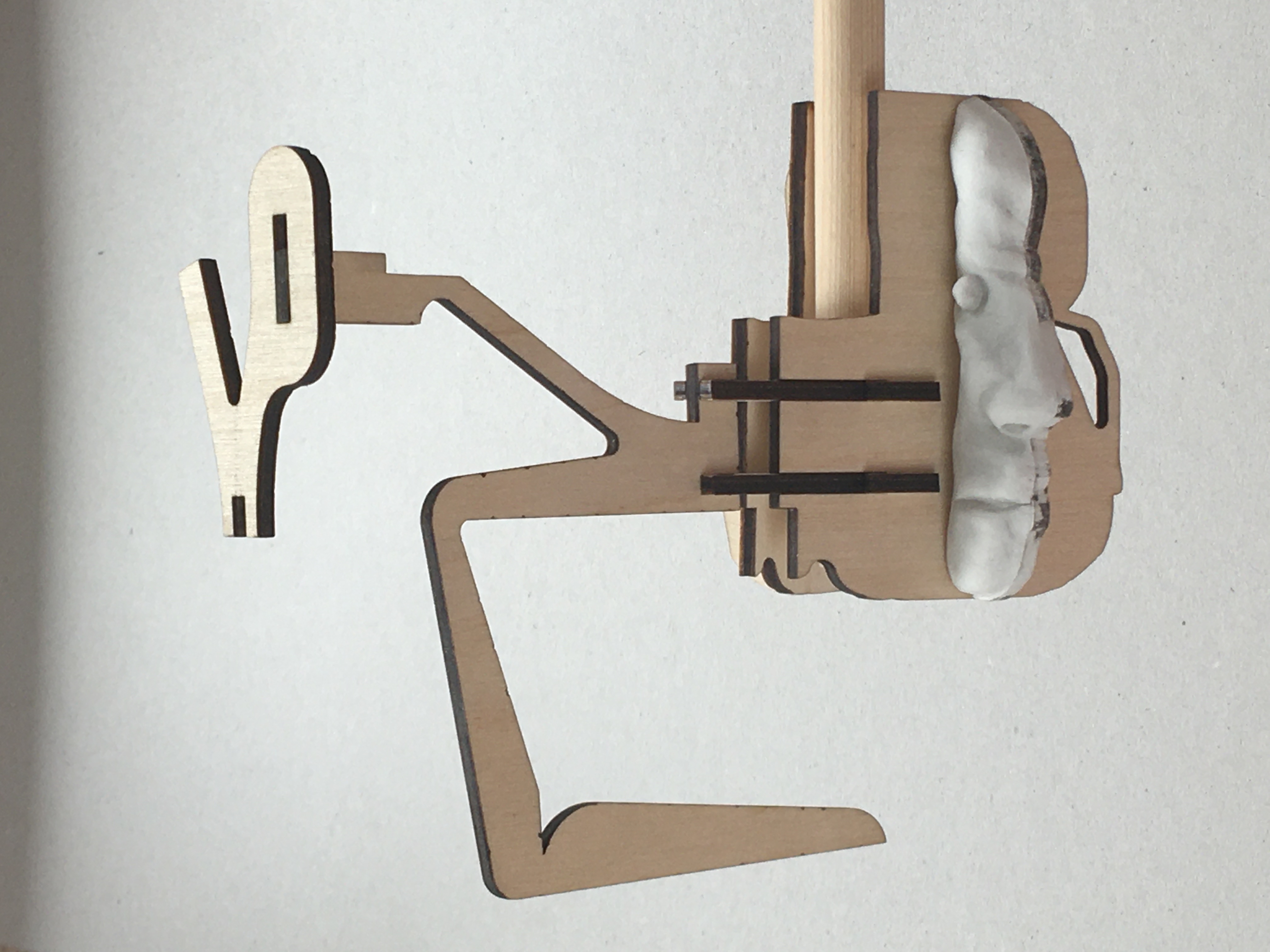 Studio Model | Hugh Frost | 2021




In Frost's work, the significance of white looks at both its historical value and contemporary manipulation amongst mobile phone companies. The scientific benefits of masking the ominous 5G towers in white cladding are both strategic and beneficial to the technical operations of the masts: white is heat reflective. However, a reinforced cynicism emerges when considering the specific associations inherent in the colour white. Hiding in plain sight, these innocuous towers are both unassuming, and unthreatening, but also a landmark of concern to their surrounding inhabitants.


Alien vs Predator Nibbles Platter. Glazed and stained stoneware | Hugh Frost | 2020

Circular Economy. Glazed and stained stoneware | Hugh Frost | 2020.



The materiality of clay and the responsive qualities of working with such a malleable medium is of great concern to his practice. Clay offers a permanence that digital material cannot. Its susceptibility to gentle impressions and mark-making highlights the imperfections of its process and hints at human contact. Before the drying stages, there is a level of plasticity. This enables appendages to be added, rethought, and recombined to formulate developments of different forms. Once the shapes are finalised, the mini beacons are bisque fired in a kiln at a heat of 1000 – 1060 degrees Celsius.


5G Network, bisqueware | Hugh Frost | 2020



As a consequence of working with such small and delicate shapes, the towers have to be fired lying down and therefore the soft white glaze can only be applied to one side, with the reverse left in its raw natural state. Intended to emulate the standard white heat reflective enclosures of 5G masts, the handmade finish on Frost's sculptures sees more colour variation and pigment texture than that of the manufactured industrial plastic.


5G Network at Glade, Potager Garden, Constantine | Hugh Frost | 2020



Paying homage to the masts' outdoor positioning, Frost places his towers back into a rural context. Exhibiting them on wood beams, distinctive of wooden pylon transmitters which also saw controversy as a new unknown technology in the 1930s. In using this material as a plinth, Frost is actively engaging with the history of technology and utilising the beams as an intentional device to give the work height and stature. When situated within nature, these sculptures become one with their agricultural backdrop, framed by bushes and greenery. These small beacons become manmade flora within a 21st-century landscape.

Similarly, yet obtrusively, the 5G masts slice the rural setting surrounding them and create a distinctive divide. This translates quite literally to the generational divide which comes from technological understanding. People who are well-versed with technology are able to verbalise concerns and understand the specific language used to discuss such developments, leaving them in a safe space to comprehend all the information presented. However, those that do not possess this vocabulary, may struggle to understand the effects of the towers and feel anxious or distrustful towards them.

Is Frost's work a critique? Does it showcase the aesthetic inspiration these masts can offer? Or is it purely a personal conquest into decoding the current conversations of our time? Acting as a point of conversation, Frost's work offers a lens for accessibility, visually creating a space for subtle contemplation.


Studio portrait by John Hersey | Edited by Hugh Frost | 2022